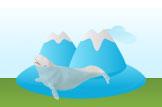 Beluga Whale information and facts:
Type: Mammal
Diet: Carnivore
Average lifespan in the wild: 35 to 50 years
Size: 13 to 20 ft (4 to 6.1 m)
Weight: 2,000 to 3,000 pounds (907 to 1,361 kilograms)
Group name: Pod
Did you know? Unlike most other whales, the beluga has a flexible neck that enables it to turn its head in all directions.
Protection status: Threatened
Belugas are also called white whales, and their unusual color makes them one of the most familiar and easily distinguishable of all the whales. Calves are born gray or even brown and only fade to white as they become sexually mature around five years of age.
Beluga Whale video.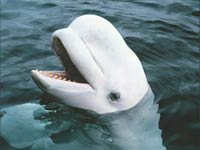 Where do Beluga Whales live?
The Belugas are common in the Arctic Ocean's coastal waters, though they are found in subarctic waters as well. Arctic belugas migrate southward in large herds when the sea freezes over. Animals trapped by Arctic ice often die, and they are prey for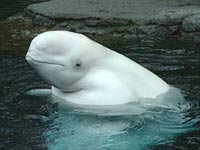 polar bears, killer whales, and for Arctic people. They are hunted by indigenous people of the north, and by commercial fisheries that brought some populations, such as those in the Gulf of St. Lawrence, to near collapse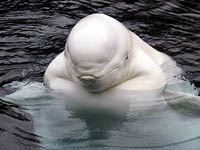 What do Beluga Whales look like?
Belugas have a dorsal ridge, rather than a dorsal fin. The evolutionary preference for a dorsal ridge rather than a fin is believed by scientists to be an adaptation to under-ice conditions, or possibly as a way of preserving heat. The body of the Beluga is round,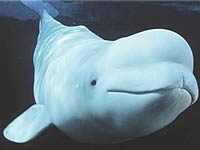 particularly when well-fed, and tapers less smoothly to the head than the tail. The sudden tapering to the base of the whale's mobile neck gives it the appearance of shoulders, unique among cetaceans. The tail fin grows and becomes increasingly and ornately curved as the animal ages. The flippers are broad and short, making them almost square-shaped.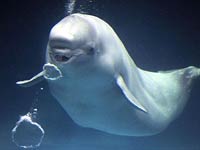 Do Beluga Whales live in groups?
Belugas generally live together in small groups known as pods. They are social animals and very vocal communicators that employ a diversified language of clicks, whistles, and clangs. Belugas can also mimic a variety of other sounds.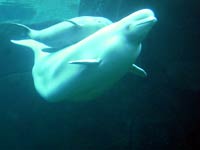 What does a Beluga Whale eat?
The Beluga is a slow-swimming mammal that feeds mainly on fish. It also eats squid, octopus, crab and shrimp. Foraging on the seabed typically takes place at depths of up to 1,000 feet, but they can dive at least twice this depth. Generally a feeding dive will last 3–5 minutes, but Belugas have been observed submerged for up to 20 minutes at a time.