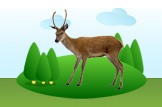 Deer information and facts:
Type: Mammal
Diet: Herbivore
Average lifespan in captivity: 6 to 14 years
Size: 6 to 7.75 ft (1.8 to 2.4 m)
Weight: 110 to 300 lbs (50 to 136 kg)
Group name: Herd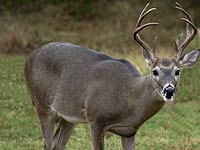 The deer family includes deer, moose, elk, and caribou. There are about 44 species in this group. They are found throughout the world except Australia, Antarctica, and Africa south of the Sahara desert.
Deer video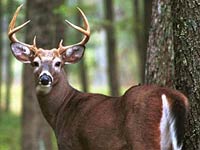 Where do deer live?
Deer are found throughout the world except Australia, Antarctica, and Africa south of the Sahara desert. Deer live in a variety of biomes ranging from tundra to the tropical rainforest. While often associated with forests, many deer are ecotone species that live in transitional areas between forests and thickets and prairie and savanna.
What does a deer look like?
A deer is a animal which is covered in a brown coat. It can also be of any other neutral color, but brown is the most common. The male deers (bucks) have antlers. When you see a deer mounted on a wall with huge antlers, these are the bucks!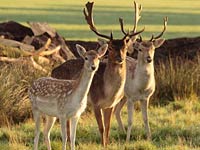 What does a deer eat?
Most deer species eat leaves and foliage, though some also include grasses in their diet. They have a complex, chambered stomach and use bacteria that live in their stomachs to ferment their food. Deer are selective feeders. They have small special stomachs and high nutrition requirements. Deer select easily digestible shoots, young leaves, fresh grasses, soft twigs, fruit, fungi, and lichens.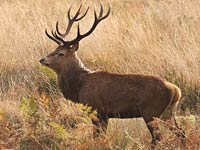 What is special about the antlers of the deer?
The most distinguishing feature of deer must be their antlers.Only male deer grow antlers, except for reindeer. In the spring bony formations begin to sprout from the top of the male's skull. Newly formed antlers are covered with a fine hair called velvet. Eventually, the velvet dries and rubs off, leaving a hard antler ready for battle.
What is the difference between large and small deer?
Smaller species of deer are generally solitary and prefer to browse among bushes and trees alone. Larger deer graze in more open habitats and congregate in herds for protection from predators.
Did you know this about deer?
Deer in Headlights: About 1.5 million deer are killed by cars each year in the United States.
The red deer, or hart, is the only deer species native to Africa. It's also one of the largest of the world's 45 species of deer.
The extinct Megaloceros had antlers that stretched nearly 11.5 feet across. This giant deer died out during the Ice Age.