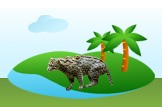 Fishing Cat information and facts:
Type: Mammal
Diet: Carnivore
Size: 25 to 34 inches
Weight: 15 - 25 pounds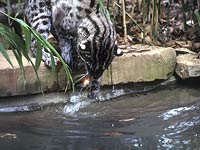 What does a Fishing cat look like?
Fishing cats range from about 25 pounds for males to about 15 pounds for females. Head and body length is 25 to 34 inches. These cats have a long, stocky body, relatively short legs, a broad head, round ears, and a short tail. Their olive-gray fur has black stripes and rows of black spots.
Fishing Cat video.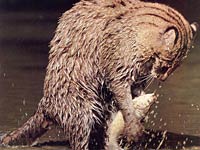 Where do Fishing cats live?
The fishing cat's general distribution is southwest India, Sri Lanka, countries of the southern Himalayas, Bangladesh, Vietnam, Thailand, Burma, China, and the Indonesian islands of Java and Sumatra. However, these cats are not found all throughout this broad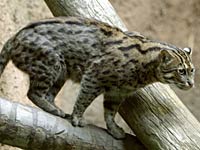 area because of their habitat preferences. They are strongly tied to densely vegetated areas near water, in marshes, mangroves, rivers, and streams.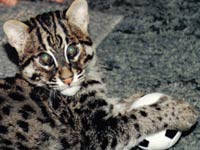 What does a Fishing cat eat?
The fishing cat's diet includes birds, small mammals, snakes, snails, and fish. The cat attracts fish by lightly tapping the water's surface with its paw, mimicking insect movements. Then, it dives into the water to catch the fish. It can also use its partially webbed paws to scoop fish, frogs, and other prey out of the water or swim underwater to prey on ducks and other aquatic birds. It is powerful enough to take large prey, such as calves and dogs.