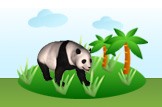 Giant Panda information and facts:
Type: Mammal
Diet: Omnivore
Average lifespan in the wild: 20 years
Size: 4 to 5 ft (1.2 to 1.5 m)
Weight: 300 lbs (136 kg)
Protection status: Endangered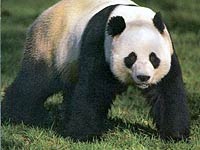 About the size of an American black bear, giant pandas stand between two and three feet tall at the shoulder (on all four legs), and reach four to six feet long. Males are larger than females, weighing up to 250 pounds in the wild. Females rarely reach 220 pounds.
Giant Panda video.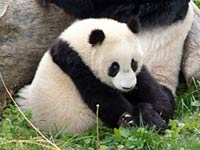 What does a Giant Panda look like?
The giant panda, a black-and-white bear, has a body typical of bears. It has black fur on ears, eye patches, muzzle, legs, and shoulders. The rest of the animal's coat is white. Although scientists do not know why these unusual bears are black and white, some speculate that the bold coloring provides effective camouflage into their shade-dappled snowy and rocky surroundings. The panda's thick, wooly coat keeps it warm in the cool forests of its habitat. Giant pandas have large molar teeth and strong jaw muscles for crushing tough bamboo. Many people find these chunky, lumbering animals to be cute, but giant pandas can be as dangerous as any other bear.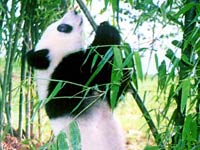 Where do Giant Panda's live?
Giant pandas live in broadleaf and coniferous forests with a dense understory of bamboo, at elevations between 5,000 and 10,000 feet. Torrential rains or dense mist throughout the year characterizes these forests, often shrouded in heavy clouds. Reclusive herbivores, giant pandas once enjoyed a wide range in southern China.
What does a Giant Panda eat?
The ancestors of the giant panda were carnivores, but its diet has evolved into one of mostly stalks and roots of the slow-growing, nutrient-poor bamboo. Giant pandas spend 10 to 16 hours a day eating the 20 to 40 pounds of bamboo needed for its daily quota. Pandas will sometimes eat birds or rodents as well.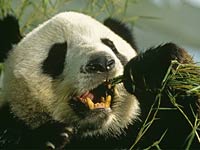 How many Giant Panda's are left?
There are only about 1,000 giant pandas left in the wild. Perhaps 100 pandas live in zoos, where they are always among the most popular attractions. Much of what we know about pandas comes from study of these zoo animals, because their wild cousins are so rare and elusive.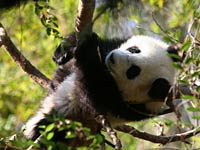 Are Panda's slow or fast?
Pandas are often seen eating in a relaxed sitting posture, with their hind legs stretched out before them. They may appear sedentary, but they are skilled tree-climbers and efficient swimmers. A wild panda spends much of its day resting, feeding, and seeking food. Unlike other bears from temperate climates, giant pandas do not hibernate.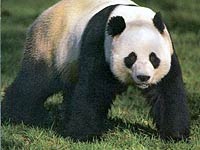 Did you know these facts about Panda's?
The giant panda's diet is 99% bamboo, but it does eat other food when available, such as fish, eggs, honey, shrub leaves, yams, oranges and bananas.
The giant panda has five fingers plus a "thumb," which isn't a real thumb but a modified sesamoid bone that allows the panda to grasp bamboo. In most mammals, this bone protects the tendon at a joint.
Typically thought of as docile and harmless, the giant panda can be as dangerous as any other bear when provoked and has been known to attack humans on occasion.
Once classified as part of the raccoon family, molecular studies have proven that the giant panda is in fact a bear.