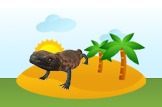 Gila monster information and facts:
Type: Reptile
Diet: Carnivore
Average lifespan in the wild: 20 to 30 years
Size: 20 in (50 cm)
Weight: 4 lbs (1.8 kg)
Group name: Lounge
Did you know? A synthetic version of a protein found in Gila saliva is used as a treatment for diabetes in humans.
Protection status: Threatened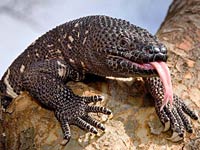 The Gila monster is one of only two species of venomous lizards (its cousin, the Mexican beaded lizard, is the other). Threatened in their natural environment, venomous Gila monsters are the largest land lizards in the United States.
Gila monster video.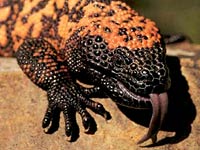 What does a Gila monster look like?
The dorsal coloration of the Gila monster is black with pink or orange. In the southern subspecies, the reticulated Gila monster, the light markings, or bands, are broken up to form a reticulated pattern. In the northern subspecies, the banded Gila monster, the light markings generally form an unbroken band across the back.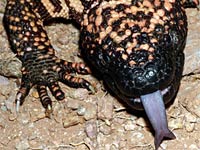 Where do Gila monsters live?
Gilas are found in the Mojave, Sonoran, and Chihuahuan deserts of the southwestern U.S. and northwestern Mexico. They take their name from Arizona's Gila River basin, where they were first discovered. Gila monsters are desert dwellers, living near washes and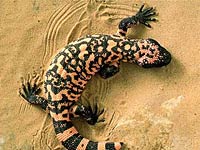 arroyos and in semiarid rocky regions of desert scrub or grasslands. Gila monsters also seem to prefer rocky foothills and avoid open flats and agricultural areas. They can live in elevations up to 5,000 feet (1,500 m).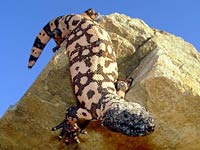 What does a Gila monster eat?
Gila monsters most often prey on small birds and mammals, eggs, lizards, frogs, insects, and carrion. They may spend more than 95 percent of their lives in underground burrows, emerging only to feed and occasionally to bask in the desert sun. They can store fat in their oversized tails and are able to go months between meals.