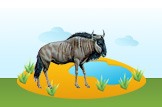 Gnu information and facts:
Latin name: Taurotragus oryx
Type: mammal
Diet: Herbivore
Average lifespan: Up to 20 years
Weight: Weighs about 500 lb (225 kg)
Size: It stands 4 1/2 ft (135 cm) high at the shoulder
Group name: Herd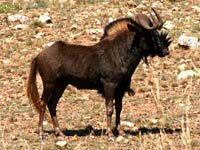 Gnus are found in Southern and Eastern Africa. The gnu is an unique animal, it looks like a combination of many other animals. Gnu is pronounced as g-nu or new. The gnu is also known as the wildebeast. These unusual looking animals have an ox-like head, big buffalo horns and manes like that of a horse. With their fierce appearance they are always looking for new sources of food, moving from territory to territory.
Gnu video.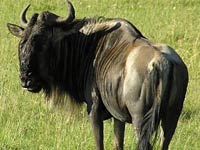 What does a Gnu look like?
The gnu is an unique animal, it has a heavy head and humped shoulders, which look a lot like those of a buffalo. They have manes much like those of a horse and a beard. The gnu has a long flowing tail. The gnus are very active animals and feed day and night. Gnus have large horns that resemble buffalo horns, curving down, outward and up. The gnus fur coat is brown on the sides with a bluish-grey color. The mane, beard and the tail are all black.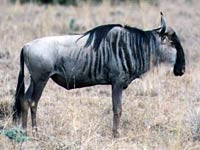 Where does the Gnu live?
Gnus live in the plains and open woodlands of Africa. They are mostly found in the Serengeti National Park. During the dry season gnus create a massive herd with tens of thousands and migrate over over hundreds of miles in search of water and food. The gnu herds follow the Zebra herds across the open plains. The Zebra will eat the tall grass and the gnu will eat the short grass.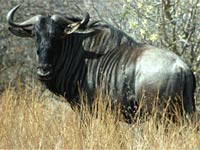 What does a Gnu eat?
The gnu is an herbivore, they are stricktly grazers. Gnu's prefer to eat short grass. They are unable to go without water for more than a few days. Gnus like to start grazing in the morning hours. They take a midday break to regain their energy only to return to complete their eating ritual.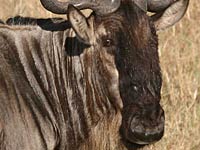 Did you know about these Gnu facts?
They graze in the morning and evening, resting during the heat of the day; they often travel long distances in search of water.
Eighty percent of gnu calves (up to half a million) are born within a two to three week period at the beginning of the rainy season.
Gnu calves can stand and run within 3 to 7 minutes of being born.
More than a million creatures take part in the annual gnu migrations that are often regarded as the world's most incredible animal spectacle.
Gnus live in one of the most densely packed herds, among the mammals.
Rather than destroying the areas over which these migrations occur, the grazing and trampling of the grasses by such large herds helps to stimulate grass growth
As a result of its appearance, the animal is also known as a wildebeest – an Afrikaans word meaning "wild beast".
At night, these animals take turns in sleeping. While others sleep, a few of them stand guard to protect their herd from attacks by any predator.