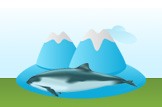 Harbor Porpoise information and facts:
Type: Mammal
Diet: Carnivore
Average lifespan in the wild: 20 years
Size: 4.9 to 6.6 ft (1.5 to 2 m)
Weight: 110 to 200 lbs (50 to 90 kg)
Group name: Shoal
Did you know? During the Middle Ages, harbor porpoise meat was considered a delicacy suitable for a royal feast.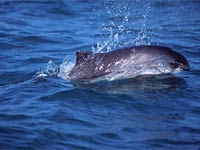 Harbor porpoises will dive as deep as 656 feet (200 meters), but they usually stay near the surface, coming up frequently to breathe. Harbor porpoises are shy, elusive sea mammals whose numbers are declining primarily because they are frequently caught by accident in commercial fishing nets.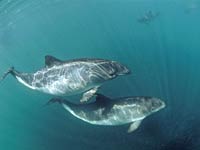 Specific numbers are unknown, but some scientists think their enormous range may mean that despite the declines, sizable populations could remain.
Harbor Porpoise video.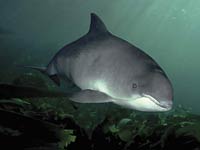 What does a Harbor porpois look like?
Unlike their dolphin relatives, they have a blunt, rounded head rather than a prominent forehead and snout. Their mouths are short with black, inward-curving lips and spatulate, or spade-shaped, teeth. Their necks, short and immobile, are virtually undistinguishable from their grayish bodies, which taper to a tail with small, curved flukes and a middle notch.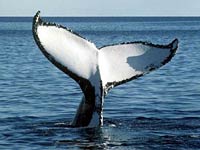 Where do Harbor porpoises live?
Harbor porpoises are found throughout the temperate coastal waters of the Northern Hemisphere. As their name suggests, they prefer the shallows, less than 500 feet (152 meters) deep, and are commonly seen in harbors and bays. They are also known to frequent inland waters, including rivers, estuaries, and tidal channels.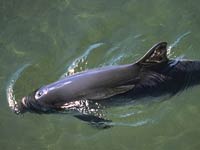 What does a Harbor porpois eat?
Harbor porpoises survive primarily on fish and are among the smallest of the cetaceans, reaching an average size of about 5 feet (1.5 meters) and 121 pounds (55 kilograms). They can dive deep, more than 655 feet (200 meters), but usually stay near the surface, coming up about every 25 seconds to breathe with a distinctive puffing noise that resembles a sneeze.