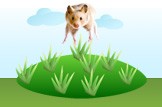 Jumping Mouse facts and information:
Latin name: Zapodinae
Type: mammal
Diet: omnivore
Average lifespan
Size: around 205–256 mm (8.1–10.1 in)
Weight: around 17–35 g (0.60–1.2 oz)
Group name: Nest / colony / harvest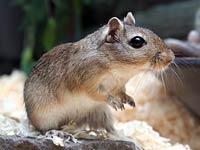 Jumping mice are known for their jumping while they are running. The run around and along the run they do a series of bounces or short hops. They can jump very far if a predator is on their tail, they are known to jump up to four meters (13 feet).
What does a Jumping mouse look like?
Jumping mice are a grey or brownish color with a white belly and yellow sides. They have a long slender tail that they use for balance. Jumping mice are a little bit larger than the common mouse. They are also called the kangaroo mouse and are very good swimmers.
Where does the Jumping mouse live?
Jumping mice can be found in Canada, Alaska, the U.S. and New Mexico. They are mainly found in fields that are moist or brushy, in marshes and woods.
What does a Jumping mouse eat?
The diet of the jumping mouse consists of seeds, berries, fruits and insects. This means they are omnivores. They also eat caterpillars and beetles.
Did you know about these Jumping mouse facts?
Its long hind legs and tail enable it to leap distances up to 12 ft (3.7 m).
Just prior to hibernation, jumping mice can obtain a weight of 35 grams or larger.
Jumping Mouse images