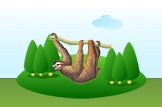 Scientific Name: Choloepus Hoffmani
Type: Mammal
Diet: Omnivore
Size: 50-70cm (20-28in)
Weight: 4.5-6kg (10-13lbs)
Top Speed: 24km/h (15mph)
Life Span: 25-40 years
Lifestyle: Solitary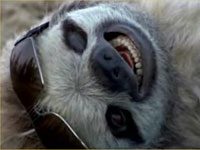 What does a sloth look like?
Sloths typically have small heads, tiny eyes and ears, and a small tail hidden beneath their fur. The rest of its body can be quite large and the arms and legs are powerful, which help with tree climbing. The fur comes in a variety of colors, but is usually bulky and coarse. Mites, ticks and even moths sometimes take up residence in the thick fur.
Sloth video.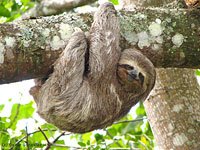 Where do sloths live?
The sloth is indigenous to the jungles of central and south America, with the general opinion being that the sloth cannot survive outside of this specific habitat. The sloth is the world's slowest mammal, so sedentary that algae grows on its furry coat. The plant gives it a greenish tint that is useful camouflage in the trees of its Central and South American rain forest home. All sloths are built for life in the treetops. They spend nearly all of their time aloft, hanging from branches with a powerful grip aided by their long claws. (Dead sloths have been known to retain their grip and remain suspended from a branch.) Sloths even sleep in trees, and they sleep a lot—some 15 to 20 hours every day. Even when awake they often remain motionless. At night they eat leaves, shoots, and fruit from the trees and get almost all of their water from juicy plants.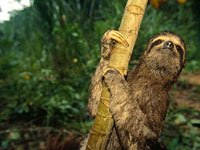 What does a sloth eat?
Although sloths have an omnivorous diet and eat both plants and animals, the majority of the sloth's diet is made of leaves. Leaves contain very little energy and nutrition so the sloth has adapted to have a large and complex digestive system in order for the leaves to pass through the sloth effectively. Sloths are tree dwelling mammals that pass their time sleeping and eating. The sloth happily eats both plants and insects, and occasionally small reptiles and birds.
What are the natural enemies of the sloth?
Sloths have long, sharp claws which they use to get good grip when they are climbing trees or hanging from branches. The sloth is a slow moving animal, and their long claws are the only form of defence that the sloth has. Sloths attack predators or threats by swiping at them with their claws out. Sloths are prey upon by jaguars, large birds of prey, snakes and humans.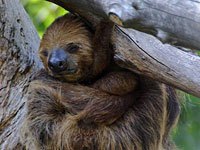 Can sloths swim?
Though they couldn't be clumsier on land, sloths are surprisingly good swimmers. They sometimes fall directly from rain forest trees into rivers and stroke efficiently with their long arms.
Did you know this about sloths?
Sloths have very large, specialized and slow-acting stomachs to digest their main food source: leaves. It takes about a month or more for a sloth to digest a belly full of leaves.
Sloths spend so much time hanging upside down, with their legs above their body, that — in order to provide protection from the elements — their hair grows away from their extremities.
Ancestors of present-day, tree-dwelling sloths included huge, ground-dwelling sloths such as Megatherium — one of the largest mammals to ever walk the earth.
Sloths are identified by the number of long, prominent claws that they have on each front foot. There are both two-toed and three-toed sloths.