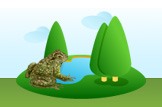 Type: Amphibian
Diet: Omnivore
Average lifespan in the wild: 5 to 10 years
Size: 4 to 6 in (10 to 15 cm)
Weight: 2.9 lbs (1.3 kg)
Group name: Knot or nest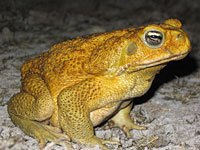 What does a toad look like?
Toads and frogs are amphibians, meaning these animals are capable of living on land and in water. No clear distinction exists between toads and frogs, although the skin of a toad tends to be rougher and drier than frogs. Toads also tend to be covered with warts.
Toad video.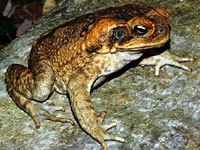 Where do toads live?
Toads are native to most of the major landmasses of the world except Greenland, Australia, New Guinea, New Zealand, Madagascar, and of course, the polar regions. But they are most abundant in the tropical regions. Toads can live farther from water sources than frogs can. Because they have tougher skin that doesn't dry out as fast as a frog's skin would. Though Bufo marinus has been artificially introduced into Australia and some South Pacific islands.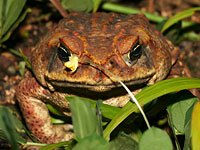 What does a toad eat?
Toads eat insects, grubs, slugs, worms, and other invertebrates like other amphibians do. As tadpoles, they eat plants. Toads, as pets, will eat fruit or vegetables. But toads in the garden, as insect eaters, should be valued for their role in pest-control!
What are the natural enemies of the toad?
Toads and frogs are very vulnerable as they have no defenses against predators. Their best bet to escape being eaten is their ability to jump quickly or their talent for blending into their surroundings. Some species have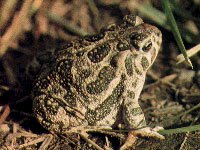 evolved glands that secrete a poisonous and distasteful substance on their skin. These animals are usually brightly colored to give warning to a predator ready for a meal. Common toads secrete an irritant from their skin that prevents most predators from wanting to eat them. Unfortunately for the toads however, a few predators, such as grass snakes and hedgehogs, don't seem to be deterred. If they avoid getting gobbled by a snake or hedgehog, toads can live for up to 40 years.