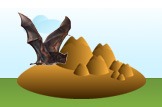 Type: Mammal
Diet: Carnivore
Average lifespan in the wild: About 9 years
Size: Body, 3.5 in (9 cm); Wingspan, 7 in (18 cm)
Weight: 2 oz (57 g) (Varies; can double in one feeding.)
Group name: Colony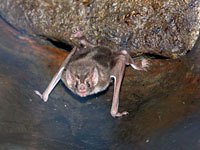 Bats are the only mammals that can fly, but vampire bats have an even more interesting distinction—they are the only mammals that feed entirely on blood. These notorious bats sleep during the day in total darkness, suspended upside down from the roofs of caves. They typically gather in colonies of about 100 animals, but sometimes live in groups of 1,000 or more.
Vampire Bat video.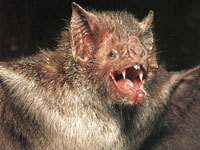 What does a vampire bat look like?
The Vampire bat looks sort of like a pig with fangs and large pointy ears. The Vampire bat is about 3 inches long and has a wingspan of about 8 inches. It weighs about 1 ounce. It has strong legs. The Vampire bat has a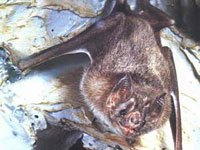 clawed thumb that comes out of the front edge of the wing. Its coat is dark gray-brown. Its mouth has two pointy front teeth. It walks by lifting itself up on its hind legs and wrists. A thumb claw sticks out from the front of its wings. It uses this for climbing around on its prey.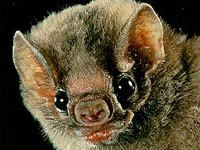 Where do vampire bats live?
The vampire bat likes tropical and subtropical places of Central and South America. The vampire bats habitat changes from scrub to rainforests.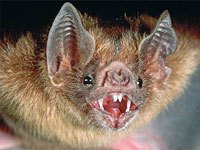 What does a vampire bat eat?
During the darkest part of the night, common vampire bats emerge to hunt. Sleeping cattle and horses are their usual victims, but they have been known to feed on people as well. The bats drink their victim's blood for about 30 minutes. They don't remove enough blood to harm their host, but their bites can cause nasty infections and disease.